High Gloss sealer provides a high-gloss, wet-look protective barrier that prolongs the life of any paver project. Use this product to protect and beautify a paver's appearance.
Benefits: High-gloss, wet-look finish | Minimizes salt and freeze/thaw damage | Provides UV protection | Stabilizes joint sand from washout, weeds & ants | Color enhancing
Applications: Concrete Pavers
LG Low Gloss sealer is a low-gloss, color-enhancing paver sealer that stabilizes joint sand and protects against sand washout, weed growth and ant infestation. It extends paver life while providing an attractive surface sheen.
Benefits: Low-gloss finish, color enhancing | Minimizes salt and freeze/thaw damage | Provides UV protection | Stabilizes joint sand from washout, weeds & ants | Interior/Exterior
Applications: Concrete Pavers
CLEAN

Wait 28 days after installing polymeric sand before sealing.
Thoroughly sweep surface of joint sand or loose material.
Spot clean if needed with one of these SRW cleaning products:

CD = Cleaner & Degreaser for oil and grease spots
RE = Rust Eliminator for rust and mineral removal

Prepare all pavers with one of these SRW cleaning products:

EF = for Efflorescence removal
PW = Paver Wash for general cleaning & polyhaze removal.

CLIMATE

After cleaning, wait at least 24 hours before sealing. Surface and joints must be completely dry.
Recommended application temperatures are 50°F-80°F (10°C-27°) from installation through the cure process.
Do not apply if inclement weather is forecasted within 24 hours

APPLY

STIR THOROUGHLY
Apply with an SRW Products approved Slit Foam Roller and sprayer.
Spray then back roll. This prevents an uneven finish. A 2-person application is recommended.
Always spray against a wet edge and do not overlap a previously sealed and dried area.
Start at the highest project eleveation
Do not allow sealer to pool on pavers or in joints.

CURE

Allow sealed area to dry and cure 24 hours.
Protect area from water and rain until dry.
Dry-tack free: 25 minutes
Foot traffic: 24 hours
Vehicle traffic: 72 hours

Note all calculations based on 68°F-77°F (20°C-25°C)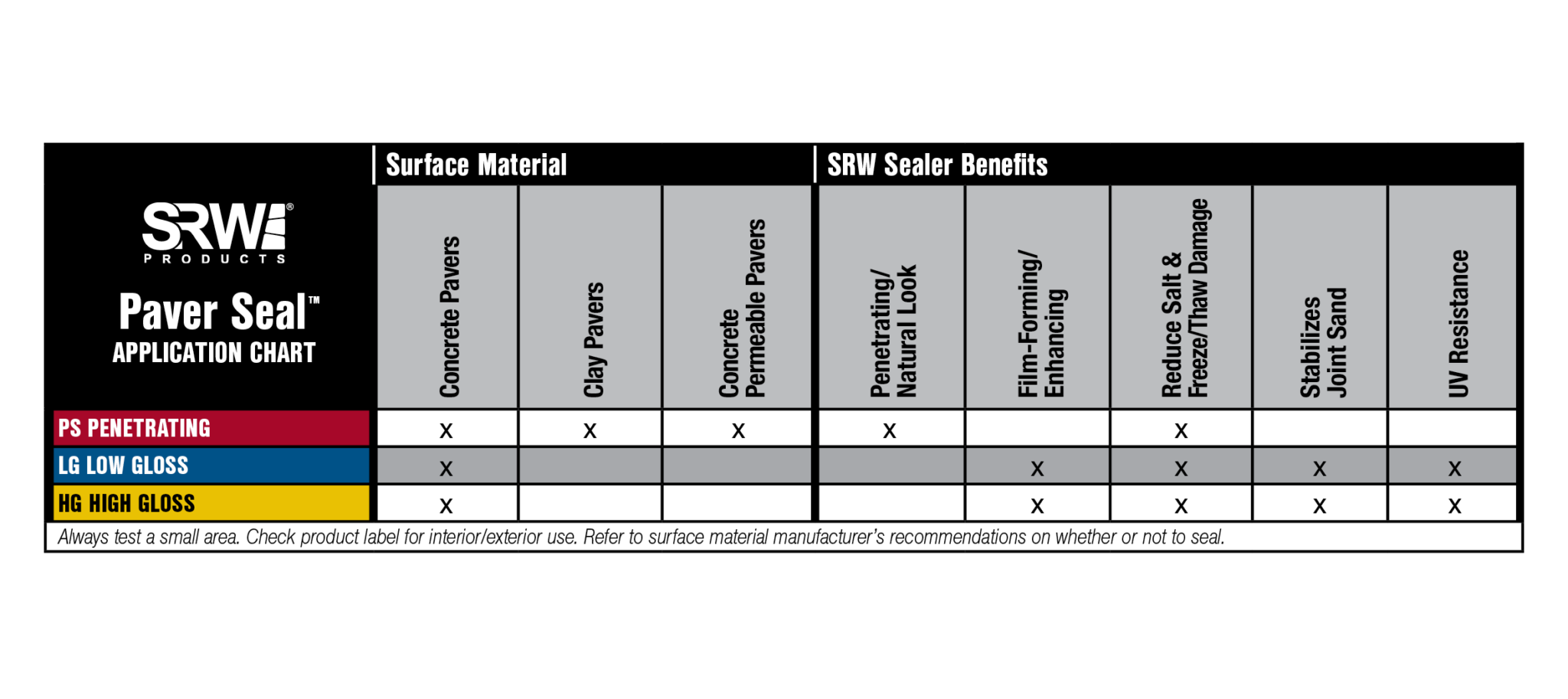 Paver Seal Specifications: